"I seek to create an environment that fosters a sense of family, integrity, creativity, respect, and a passionate commitment to hard work. I strive to provide transformative, life-changing experiences for sincere, open-minded, curious musicians who, through music, can envision themselves as a vehicle for positive change in this world."
Northern Illinois University
I arrived at Northern Illinois University School of Music in 2004 and am currently the fourth Director of Percussion Studies. NIU's is a program with a rich fifty-eight year history of percussive excellence, and I consider our family-like heritage as fuel to create an engaging learning environment for our current students.
I look to the future with excitement and promise as I watch my current students and alumni grow, develop their own artistic voices, and make an impact in their communities. Indeed, the opportunity to work daily with extremely motivated and dedicated students has been and continues to be deeply inspiring. Nothing makes me happier than knowing that students from this program have gone out into the world with joy in their hearts, smiles on their faces, and the clarity of purpose to make a positive difference in this world. 
I currently direct two ensembles at NIU, the Percussion Ensemble and the New Music Ensemble. During my time at NIU the Percussion Ensemble has performed at the Percussive Arts Society International Convention (PASIC) in 2009, 2013, 2014, and 2018. With both ensembles, I ensure that programming presents a breadth of material from classics to contemporary works, particularly music written by women and people of color. The Percussion Ensemble performs new works by composers such as Alexis C. Lamb, Alissa Long, Andrea Venet, Sarah Wald, Joe Moore, Javier Diaz, Alexandre Lunsqui, and Miles Okazaki, alongside classics by Cage, Varèse, Davidovsky, Xenakis, Reich, Grisey, and Nishimura. 
As the NIU New Music Festival's Director, I enjoy collaborative programming with excellent guest musicians. Our guests have included Regina Harris Baiocchi, Augusta Read Thomas, Clocked Out Duo, Wet Ink Ensemble, Yarn/Wire, Shulamit Ran and David M. Gordon, and the NIU alumni-driven organization, Nief/Norf. Through deliberately inclusive programming, the Festival brings together a broad cross section of NIU's performing ensembles: Chamber Choir, Philharmonic, Faculty Jazz Combo, Avalon String Quartet, Faculty and Student Brass Quintets, the Percussion Ensemble, the New Music Ensemble, the Composition Area, and several student and faculty soloists.
Juan Diego Diaz, Matthias Röhrig Assunção and Gregory Beyer; Source: Ethnomusicology 65:2. (Summer 2021) 286-323.
Gregory Beyer; Source: Percussive Notes 57:4 (September 2019): 36-51.
Gregory Beyer; (J-C. Wang, Trans.). Journal of Aesthetic Education, 195 (Sept 2013) [in Chinese]: 32-37.
Gregory Beyer, Edited by Sazi Dlamini. 1st International Bow Music Conference Proceedings. Grahamstown: International Library of African Music. 2017: 15-39.
Gregory Beyer and Robert Bridge; Source: Percussive News, (February 2011): 12-15.
Gregory Beyer; Source: Percussive Notes 47:4 (August/September 2009): 6-17.
Gregory Beyer; Source: Percussive Notes 46:6 (December 2008): 42-45.
Gregory Beyer; Source: Percussive Notes 45:5 (October 2007): 48-58.
Gregory Beyer; Source: Percussive Notes 43:1 (February 2005): 48-56.
Federal University of Minas Gerais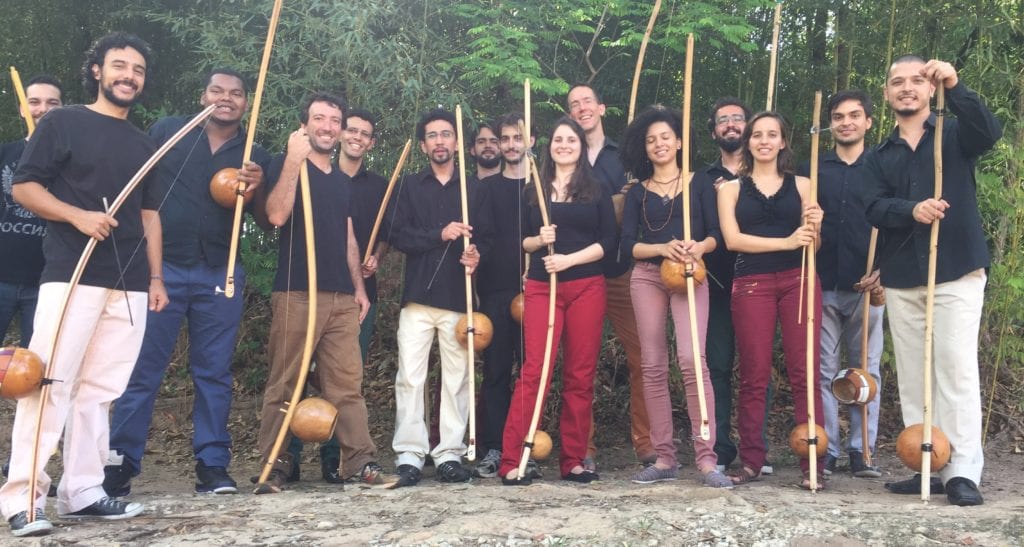 In 2015-2016, as a Fulbright Scholar I spent eight months in Belo Horizonte, Brazil, where I taught percussion at the Federal University of Minas Gerais (UFMG) and trained Capoeira Angola as a means to deepen my understanding of the berimbau in Afro-Brazilian traditions. These Interactions with multiple communities within the same city sharpened both my language skills and my cultural sensitivity.
At UFMG, I had an incredible time with wonderful, hardworking, fun-loving students. It felt like NIU in Portuguese! This experience made me realize just how similar a "musical culture" in one school of music can be to another. The daily concerns of faculty, of students, are much the same as they are at NIU. I am extremely grateful to my friend and colleague, Fernando Rocha, whose invitation allowed me this transformative experience.
By contrast, the time I spent in the capoeira community was unlike anything I had experienced in the United States. Friendships blossomed gradually and respect was earned in small steps over many months. I am deeply indebted to my teacher Mestra Alcione Oliveira for her kindness, wisdom, generosity, and incredible physical agility and graceful musicianship.
With a group of very talented students at UFMG, I founded Arcomusical Brasil. This ensemble traveled to Durban, South Africa to perform in the First International Bow Music Conference (IBMC). The strong interpersonal connections made in Africa provided the ensemble the focus to remain active today. In 2018 we returned to participate in the Second IBMC, and in 2019 I traveled to Minas Gerais to produce the group's first album of original music Semente, which the group released in November 2021 (Selo Grão Discos).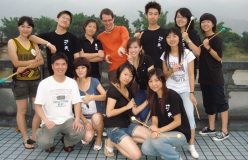 In the summer of 2008, I spent a month in Fuzhou, the capital of Fujian province, China, teaching and performing at the Fujian Normal University. This was an incredibly fun month, full of hard work, some study in Mandarin, some wonderful friendships made, and all the result of a friendly invitation from a colleague, Wen DeQing, who is now on the composition faculty of the Shanghai Conservatory. Wen and I met at the Darmstadt Festival of New Music in 1998, and by chance ran into each other again at Beijing New Music Festival in 2005. Three years later, I found myself teaching in China. Incredibly grateful for these experiences and these memories. And a VERY BIG THANKS to my wonderful colleague at FNU, Li Lin (photo above, lower left with white t-shirt).
I published an article in Percussive Notes about my experiences there. I wrote it in a very fun style heavily under the influence of the excellent American China correspondent for the New Yorker and the Wall Street Journal, Peter Hessler. He is excellent. (Thank you, Janet Hathaway!)
Percussion Studies Interest Form